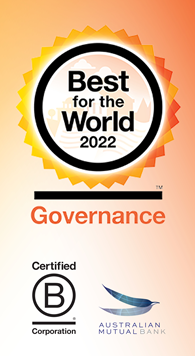 We're very excited to share that we've been recognised as one of the Best for the World™ B Corps of 2022. The Best for the World recognition is administered by B Lab, the global nonprofit network that certifies B Corps, which are companies that meet the highest standards of social and environmental performance, accountability, and transparency. Today, there are more than 5,000 B Corps across 80 countries and 155 industries, unified by one common goal: building an inclusive, equitable, and regenerative economic system.
To achieve our B Corp certification, we had to answer over 200 questions in five impact areas: Governance, Community, Environment, Customers and Workers, and the Best for the World programme has recognised our score under Governance as reaching the top 5% of all B Corps worldwide.
The Governance Impact Area evaluates a company's overall mission, engagement around its social/environmental impact, ethics, and transparency. Good governance is essential, particularly in the financial industry, and the concern for the social and environmental impact of our activities has become an integral part of our organisational culture.
Australian Mutual Bank's governance and risk framework ensure that the bank is controlled and managed in a sound and responsible manner by a competent board of directors. The directors are elected by our members at the Annual General Meeting and directors are only eligible for election if they are deemed Fit & Proper ("Fit" meaning that directors have the requisite skills and experience, and "Proper" meaning that they are persons of honesty and integrity). The Board of Directors has overall responsibility on behalf of the shareholders (Members) for the business of Australian Mutual Bank.
At Australian Mutual Bank, our vision is to be Australia's most trusted mutually owned bank. We strive for the financial well-being of members by providing fair and ethical banking services. We will always act honestly and with integrity, and always treat members fairly and reasonably. Provisioning friendly member-focused service is a high priority for us, and we provide clear and accessible information about products and services, so members can make informed decisions.
Mutually-owned organisations such as Australian Mutual Bank are based on their membership, and we are aware that without satisfied and well-served members we wouldn't exist. We believe that good governance is the main ingredient to ensure accountability, fairness, and transparency in our relationship with our members and this recognition as Best for the World™ B Corps of 2022 for Governance makes us incredibly proud.
13 July 2022