Whether we like it or not money plays a key role in our daily lives. While it may be a taboo topic within some families, talking about money with your young family members may assist your children to develop a healthy awareness of money. The sooner you begin this discussion the better. Beginning the conversation early in life gives kids a solid foundation from which to build the skills to approach their finances with confidence in the future.
Schools haven't exactly been leaders in the area of financial literacy for kids. School students are given a very basic introduction to money via identifying currencies and learning how to add and subtract using money transactions as examples. And while a new national program designed to bring more financial literacy into Australian schools kicked off in term one this year, it is still early days with the program in its infancy and not yet rolled out to all schools.* A recent survey of more than 2000 parents and students commissioned by Ecstra Foundation found most people agreed on the importance of kids learning about money early on in life in order to be well equipped for their future. So while we wait for schools to catch up, it's up to parents to implement a much needed financial foundation for their kids.
Over the next two weeks, we'll explore some simple ways to teach kids how to manage their money and understand budgeting from a young age. This week we'll look at tips and tricks for primary school-aged kids. It's never too late to discuss spending and saving with young children, as they learn habits from a young age. The earlier you can encourage mindful money management, the better.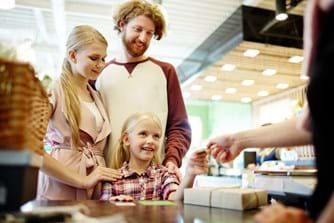 1. Shopping for Groceries
Take your primary aged kids shopping for a small food shop. Establish a set budget and bring enough cash to cover the purchases. Get your kids familiar with the value of different notes and coins if they aren't already. Stay within budget and take the time to show your kids how you decide what to buy. Show them how brands might differ in price as well as volume. Discuss what is better value and perhaps also discuss why you prefer one brand over the other, even if it isn't always the cheapest option. Let your kids help you work out what you can afford by counting out the money you have in your wallet and adding up the cost of what you have in your basket. Aim to do this together as an exercise once a month and perhaps share an ice cream or treat afterwards together if you manage to spend under budget.
2. Understanding Cashless Transactions
Many children don't realise shopping online, downloading movies, games and apps often cost money. They see their parents accessing content or making a purchase online, but as there is no exchange of cash, it can be hard for kids to equate this as 'spending'. Help your child to understand by downloading a film with them, showing them how much it will cost on the screen and then explain the money will be taken from your account using a credit card or a debit account. When your monthly account statement is ready for download or arrives in the mail show them so they can see the deduction from your account.
3. Pocket Money as a Learning Tool
The best way for kids to understand how to make decisions about money is to have some of their own. If they receive this money in exchange for doing chores they will learn even more. Most of us value the money we earn differently to the money we are gifted or given. Pocket money can be a wonderful way to encourage children to learn about how money can be earned and spent or saved. As an affordable entry point try $5 at the end of the week if your child makes their bed and empties the dishwasher each day. Discuss the pros and cons of putting aside some of their pocket money into savings over their easy access money box. Discuss long term savings goals (such as a big purchase they will need to save for over several months) and short term savings goals (something smaller which only needs a couple of weeks' worth of pocket money). Try dividing pocket money into 'money to be saved' and 'money to be spent' to help them understand the difference and watch how the two balances differ over time.
4. Understanding Value for Money
Teach your kids to recognise how similar items can often be priced differently and how to compare deals. Figuring out whether an item is better value than another item is every day maths in action. As an exercise in understanding value give your child some cash ($10 or $20 is a good amount for this experiment) to spend on a day trip or while on holiday. Tell them they get to decide what to spend their money on (within reason) so they can learn to determine what is good value. If they spend it all in one go and want something later on in the day, it's a valuable lesson in not spending everything all at once. If they blow it on something which breaks or is boring after a few uses they will also learn a useful lesson. Next time they might be a bit more careful with how they decide to spend their own cash. Help them work out what they can afford and what they can't but let them make the final decision about how to spend their money.
5. Understanding every day costs of living
When your next bill arrives show your kids how much it comes to and then tell them how much you as a family earn over the same period the bill covered to help figure out the cost per day/week/month or quarter that service cost. This helps to teach your child about the connection between work and how it pays for things. Electricity, phone bills and even your water bill are all good ways to demonstrate households have regular bills which need to be paid and that keeping aside funds to pay them is an important part of healthy money management. It might also encourage your kids to turn off the lights when they aren't in their room, and not leave the tap running while brushing their teeth!
6. Plan a Mini Holiday Together
Work out the budget and a savings plan to get there. Look up accommodation, flights (if applicable) and any other costs involved and list the expenses. This exercise will assist with understanding budgeting, saving for a future event as well as enjoying the rewards of working toward a financial goal. Allow them to have input into the experience and plans and explain that it is possible that in order to save for this future event some spending in the immediate future will need to be curbed. You could discuss what non-essential expenses could be reduced to save money for the holiday. This is an empowering exercise for kids and gives them money skills through experience plus an experience to look forward to.
7. Get Saving!
If your school-aged child doesn't have their own savings account now is the time to open one for them. Ideally kids should have an account early on to help them understand the value of saving and begin to build a bank balance from a young age. Australian Mutual Bank has an account especially for kids called the Young Saver Account which is for kids aged 0 - under 18 in the adult's name (with a Youth option for kids aged 12 - under 18 in the child's name). The 'kids only' account offers a great tiered interest rate, has no account keeping fees and no minimum monthly deposits**.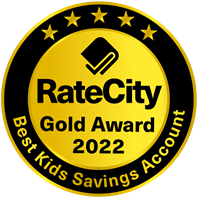 Australian Mutual Bank has won the RateCity Gold award for Best Kids Savings Account for the Young Saver Account in 2022. The RateCity Gold awards celebrate banks, lenders and credit unions that offer consistently competitive products to Australian consumers. The winners of the awards score consistently as top performers based on RateCity's extensive methodology. The top 10 percent in each category are awarded a RateCity Gold Award - a signal to consumers that this product is one of the best options in market.
Ideally regular savings patterns should be established during Primary school years. Help your child to reach savings goals by explaining how regularly saving small amounts will eventually add up to a larger amount, helping them to eventually reach their savings goal. Allow your child to see the progress of savings in their account by showing them their bank statement when it arrives in the post and give positive feedback as they work toward their personal financial goals.
Teaching our children financial skills early on will empower them to make sensible decisions regarding money, equipping them with skills to last a lifetime. If our kids have a healthy and respectful relationship with money they are more likely to be financially independent as adults which is a win win for families, communities and the economy.
MoneySmart has a handy resource to support you in educating your kids about money.
Some helpful resources including book recommendations to support financial literacy based on age:
*The free program called Talk Money is currently being piloted in some Australian schools and is run by independent charity Ecstra Foundation. The program aims to teach students about how to make better informed financial decisions and is being offered for free to all government and non-government schools in Years 5-10.
**Any advice or information on this site does not take into account your personal objectives, financial situation or needs and you should consider whether it is appropriate for you. Please review Australian Mutual Bank Ltd Account and Access Facility Conditions of Use and Financial Services Guide before acquiring the product.
Alison Gallagher is a freelance writer, resourcefulness expert and entrepreneur. She has been featured in various publications including Stellar Magazine, Australian Health and Fitness Magazine, and Cleo Magazine. Alison is particularly passionate about sharing practical tips on how to live simply, sustainably and seasonally.  
​
02 June 2022