Last week, Australian Mutual Bank Deputy Chair Fiona Bennett volunteered in a Christmas present wrapping session with Barnardos Australia in Orange, NSW.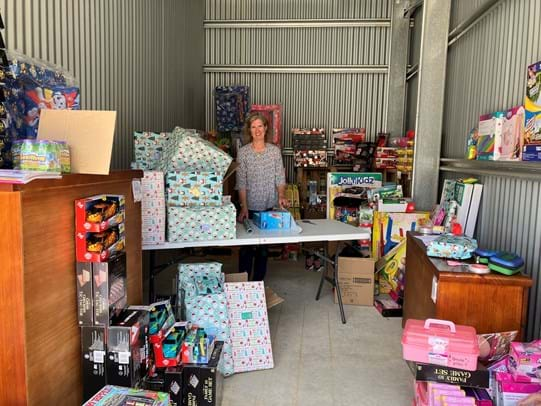 Fiona spent more than six hours wrapping gifts and managed to help wrap two-thirds of the gifts for the seventy vulnerable children in the local Barnardos program. Each child will get two gifts.
"I gained enormous satisfaction from spending the day in a Barnardos shed in Orange NSW, helping to wrap Christmas gifts for children in the area. There were plenty of quality gifts that the community and generous companies had donated which will surely bring excitement to the young recipients of these presents at Christmas.
I learnt a little more about the hard times that some families go through and about the work that Barnardos staff do in my community. It was a fulfilling day and I came home with extra gratitude for what I have. I encourage everyone to get involved in your community if you haven't yet had the opportunity. I'm so pleased I did" said Fiona.
If you would like to get involved too, please consider donating a gift to the Barnardos Gifts for Kids Christmas Appeal which aims to gift 10,000 Christmas presents to disadvantaged children this year. Barnardos have a range of popular gifts to suit children of different ages. Simply choose your gift, and it'll be delivered to a child in need this Christmas. Click here to donate to the Barnardos Gifts for Kids Christmas Appeal.
06 December 2022