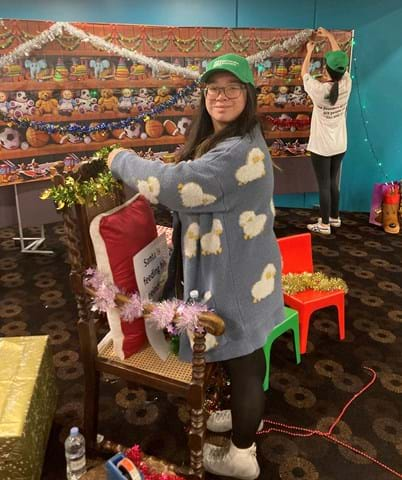 Christmas in Pyrmont is an annual Christmas festival opening the streets of Pyrmont to the public to celebrate Christmas and raise funds for local charities – including Barnardos Australia. This year Barnardos has assisted in operating the kids' activities hall. Australian Mutual Bank staff Glen and Jenny have volunteered to assist with the event set up, running festival activities and pack down.
The event was a huge success, with a variety of market stalls, food & drinks, children's craft and activities, a fantastic line up of entertainment on the main stage and of course, Santa!
"It was a fun filled day and great to see so many family out and about. Santa was popular with all of the children along with the face painting." said Glen.
Jenny has also enjoyed the opportunity to give back to the community and support the valuable work of Barnardos: "It was a great and rewarding day, being able to make the little kids happy, painting what they like on their faces and their faces lighting up when done is all just an experience you have to go through for yourself. It was nice to see how fun and happy the kids were with their families."
01 December 2022