The Australian Mutual Bank mobile banking app has been enhanced with a new secure messaging capability that allows members to communicate securely and confidentially with the bank via the app. The secure messaging can be accessed by logging into the app and tapping the envelope icon in the top right corner of the screen.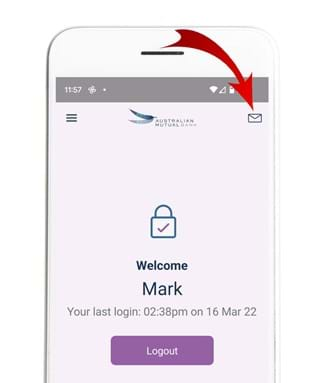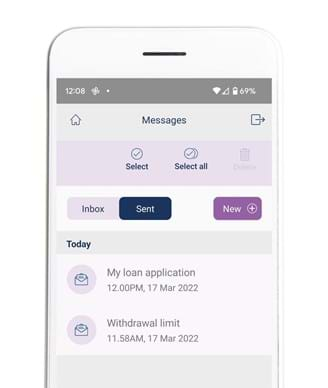 The Secure Messaging module in the app mirrors the Internet Banking messaging capability, improving the convenience and the general digital experience of the members when dealing with Australian Mutual Bank.
Sending communication via the mobile app or Internet Banking provides the benefits of security and a consolidated source for recordkeeping.
Members can use secure messaging to contact us for a variety of reasons such as requesting a temporary increase in external transfer limit or enquiring about loan products or other banking products.
Once we receive your message, one of our friendly staff will usually reply within one business day. If you need to get in touch about an urgent matter, such as a lost card, please do not use Secure Messaging, contact us immediately on 13 61 91.
Alerts for new messages received
If you wish to be alerted when you receive a new secure message, you can set up a New Message Received Alert that will send you a notification via SMS or email.
To set up the alert, please log into Internet Banking. From the top menu, go to Settings > Alerts > Create alert. On the alerts screen, select <member no> - Internet Banking Member Number and then New Message Received from the new dropdown menu displayed underneath. Click Next and choose Alert Method (email or mobile) and then click on the Save button.
For assistance, please call us on 13 61 91. We are here to help.
16 March 2022