Australian Competition & Consumer Commission's (ACCC) Scamwatch has issued a warning to consumers about a new scam currently circulating, targeting Qantas Frequent Flyer, Telstra and Coles loyalty programs' customers. This alert comes after 209 reports to Scamwatch in the past four months.
Loyalty programs allow members to access promotions, receive points and discounts on their purchases. Many businesses use customer loyalty programs. This includes supermarkets and airlines, where they may be known as frequent flyer programs.
Australians who are experiencing cost-of-living pressure are considered to be the most vulnerable to these scams and cybercriminals are using this to their advantage, deliberately panicking consumers by claiming their points are expiring soon.
How the scam works
Consumers will receive either a text message or email stating their loyalty points are expiring.
The text or email includes a link to a fake website, which prompts customers to login. Customers may also be prompted to provide credit card details to use loyalty points.
Scammers steal customers' points. They also steal customers' login details and personal information to use on other platforms and commit identity fraud.
Although the vast majority of reports received to Scamwatch have been in relation to Qantas, Telstra and Coles loyalty programs, Australians should be aware that any loyalty program can be a target.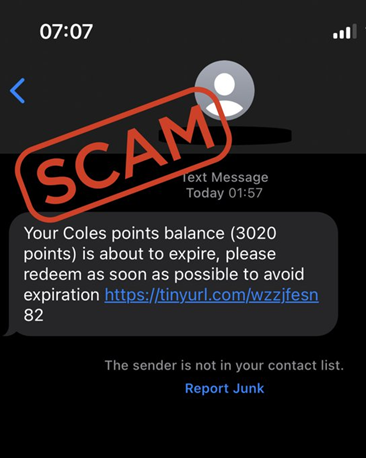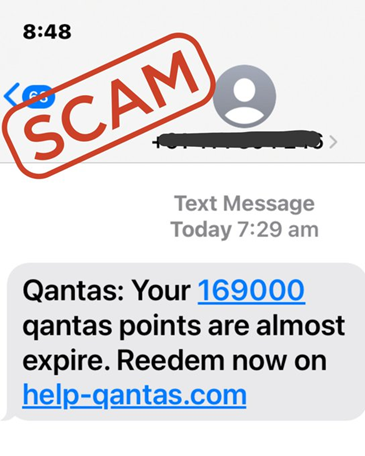 Source: Scamwatch
How to protect yourself 
Customers are urged to be vigilant when such messages are received.
Always think twice - if you have any doubt about its legitimacy, contact the relevant company to check information about the loyalty program.
Customers should also never click on a link included in a text or email. Instead check the app or website of the company independently to verify the status of the points.
Ignore and delete any loyalty program messages that contain a link.
What to do if you've been scammed
If you have lost money to a scam, please notify your financial institution as soon as possible.
Australian Mutual Bank members can speak to our Fraud Team by calling 13 61 91 or by emailing info@australianmutual.bank
For more advice on how to avoid scams and what to do if you or someone you know is a victim of a scam, see our Security Advice section or visit the Scamwatch website at www.scamwatch.gov.au.


Sources:
https://www.scamwatch.gov.au/news-alerts/scam-alert-new-scam-targets-customers-of-loyalty-points-programs
26 July 2023