Australian Mutual Bank is proud to have launched its inaugural Reflect Reconciliation Action Plan during a special celebratory event held on 13th July 2023. The launch helped to recognise the Bank's commitment to strengthening relationships with Aboriginal and Torres Strait Islander peoples and increase our cultural awareness.
Australian Mutual Bank's Reflect Reconciliation Action Plan (RAP) is an important step in our reconciliation journey. Australian Mutual Bank recognises the significance of building respectful ongoing relationships with First Nations communities and our first RAP continues our commitment to diversity, equity and inclusion. Through our RAP we seek to contribute to reconciliation and meaningful change to improve relationships with Aboriginal and Torres Strait Islander peoples and relevant stakeholders that support Aboriginal and Torres Strait Islander communities.
Honoured guests and special attendees arrived to join Australian Mutual Bank staff to celebrate the inaugural launch of the Bank's Reflect Reconciliation Plan. The event was officially acknowledged by Brendan Kerin, Cultural Educator and Advisor for Metropolitan Local Aboriginal Land Council. The launch also welcomed Donna Ingram, Community & Cultural Senior Consultant with Murawin Indigenous Voice Consultancy who was integral during the RAP's development and provided great insight and contribution to the final plan. It was also an honour to be joined by esteemed guests Bruce Shillingsworth (Senior Education Support Worker) and Viv Freeman (Manager) from the Barnardos Australia Yurungai Learning Centre, which helps provides support and care to Aboriginal and Torres Strait Islander children. The launch event also welcomed other representatives from Barnardos Australia including CEO Deirdre Cheers, Chair of the Board Janett Milligan, and Corporate Engagement Manager Annalise Wild.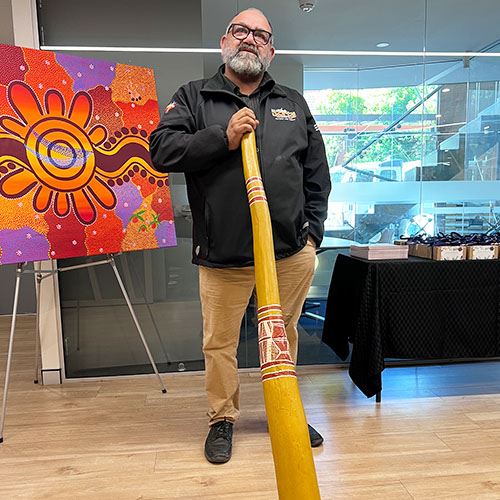 Brendan Kerin performs on a yidaki (didgeridoo) during the Welcome to Country
Australian Mutual Bank CEO Mark Worthington warmly welcomed the attendees to the RAP launch, recognising that our commitment to our RAP is only the beginning of our journey on working towards a more inclusive society for all Australians.
"Ultimately, in a reconciled Australia there will be no barriers preventing Aboriginal and Torres Strait Islander people from participating in the same range of opportunities and choices as non-Indigenous people. Additionally, Aboriginal and Torres Strait Islander cultures and heritage will be valued and recognised as a proud part of a shared national identity. Our commitment to reconciliation will contribute toward this just outcome." – Mark Worthington.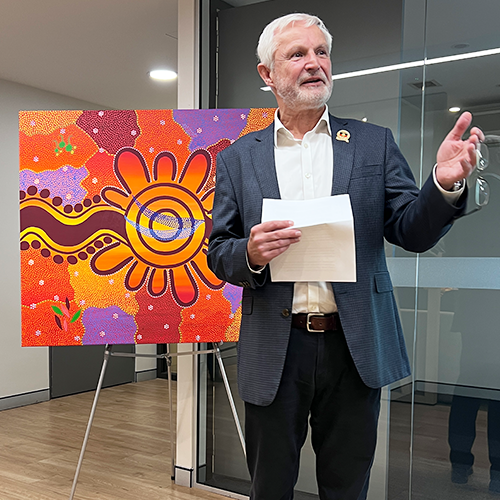 Mark Worthington, CEO of Australian Mutual Bank, presents at the Reflect Reconciliation Action Plan Launch
Australian Mutual Bank Chair of the Board Fiona Bennett also addressed the audience, emphasising the significance of the event. She extended her congratulations to the Bank for achieving such an important milestone and discussed the implications of this achievement for the Bank's corporate social responsibilities. In addressing the attendees, Fiona presented a special gift to Australian Mutual Bank on behalf of Ngurang-gu Yalbilinya (place of learning), an educational initiative located in Orange, NSW, aimed at re-engaging young Aboriginal teenagers who have become disengaged from education.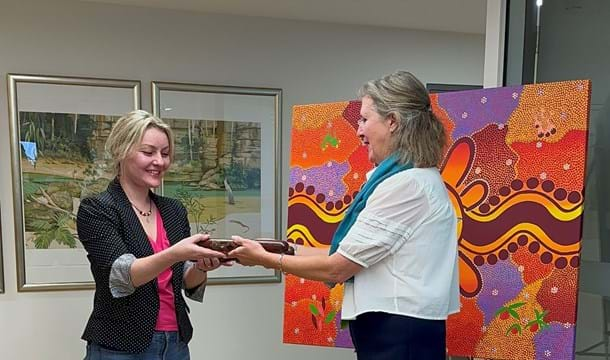 Fiona Bennett presents a gift of clapsticks to an Australian Mutual Bank's representative on behalf of Ngurang-gu Yalbilinya
Australian Mutual Bank's inaugural Reflect RAP represents our long-term commitment to work with local communities to advancing reconciliation and we thank those in attendance during our launch event to help mark this milestone in our history.
To illustrate the reconciliation journey, Australian Mutual Bank partnered with Boomalli Aboriginal Artists Co-operative to commission a custom piece of artwork by artist Joanne Cassady. In addition to creating the artwork, Joanne is also a long-standing member of the Bank, with a relationship spanning over 30 years.
Our RAP is central to Australian Mutual Bank's growth as an organisation that contributes to a just and equitable Australia. We thank Reconciliation Australia for their generous guidance and assistance in developing our RAP.
14 July 2023