We are very pleased to announce that Australian Mutual Bank has won the Gold award for Best Kids Savings Account for our Young Saver Account. The RateCity Gold awards celebrate banks, lenders and credit unions that offer consistently competitive products to Australian consumers. The winners of the awards score consistently as top performers based on RateCity's extensive methodology. The top 10 percent in each category are awarded a RateCity Gold Award - a signal to consumers that this product is one of the best options in market.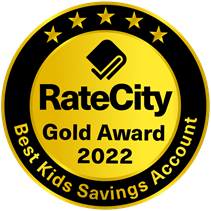 The Australian Mutual Bank Young Saver account was designed with our youngest members in mind and helps kids establish good habits for saving and spending. The product has no account keeping fees and is available to children under the age of 18 in the adult's name (on behalf of the child) and 12-under 18 in the child's name.
The awards received by our products are a reflection of our commitment to deliver our members excellent products to suit their needs. To find out more about our award winning savings account, visit our Young Saver Account page.
20 May 2022