As winter rolls in, many Australians will be looking to book a flight, and jet off into the warmer Northern Hemisphere summer. For others, it might be staying in and hibernating for the winter. But no matter what you are doing, Cybercriminals will still be out to scam unsuspecting victims.
A new warning has been issued by The Australian Competition and Consumer Commission's (ACCC) Scamwatch about the latest scam circulating where a text message is received purporting to be from Qantas.
What to look out for
The text, which has been reported multiple times recently — claims a flight has been booked by the target and encourages them to call back if they believe a mistake has been made.
It may read something like this "Qantas Airline ticket bought for flight O7MZ. If this was not you get in touch." Followed by a contact number.
Scammers can even manipulate their contact name, making the text appear more like it came from Qantas or from your bank.
Ringing the number, puts potential victim through to a scammer looking to swindle them out of their money.
Scamwatch urged Australian's to beware of the ploy.
"Beware of text messages saying you have bought a ticket or made a purchase and asking you to click a link or call a number if it wasn't you," Scamwatch said.
"This is a scam. Don't call the number."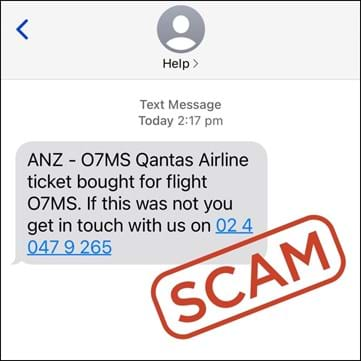 Anyone who receives the message has been urged to report it to Scamwatch.
Qantas has also provided a general advice page on how to avoid scammers posing as the airline.


How to protect yourself from similar scams
If you receive a suspicious email or text message on your mobile, particularly through social media, get in contact with the company via a number sourced from their official website
Remember to never share any personal information with anyone, such as card details or SMS One Time Passwords
Don't ever authorise third party access to your desktop computer, mobile phone or any electronic devices
Don't make any advanced payments until you are sure the company you're dealing with is legitimate
Never provide your internet banking passwords to anyone
Never divulge an SMS one time verification code to anyone
Never make an internet banking transfer to anyone where you are not 100% certain that they are legitimate


What to do if you've been scammed
If you have lost money to a scam, please notify your financial institution as soon as possible.
Australian Mutual Bank members can speak to our Fraud Team by calling 13 61 91 or by emailing info@australianmutual.bank
For more advice on how to avoid scams and what to do if you or someone you know is a victim of a scam, see our Security Advice section or visit the Scamwatch website at www.scamwatch.gov.au.


Sources:

05 June 2023