Optus customers are being advised to avoid clicking on any links sent via text message or email.
The National Anti-Scam Centre also known as Scamwatch, has warned Australians about a new scam text message, which claims to be sent by Optus, offering compensation.
This phishing scam has started circulating amid the network outage experienced by the telco last week. With many customers unhappy at the compensation offered by Optus, scammers are looking to capitalise on this.
Scamwatch has posted an image of the scam which reads:
"Hi there, we apologise for yesterday's network outage. We are offering compensation for all customers impacted."
The message also contains a link that supposedly directs recipients to an application page for compensation. It appears legitimate but it's not the same URL as the official Optus website. Do not click on this link.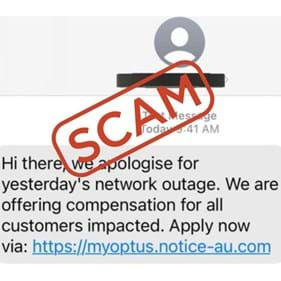 Source: Scamwatch
With the outage affecting some 10 million Australians, there is some concern with the potential reach of this scam.
"We're aware of phishing messages claiming to be from Optus regarding the outage," Optus has said in their statement.
"To help address this and for each customer's peace of mind, we will not be sending communications (email or SMS) about this outage with links."
Optus has also advised if customers have any concerns, the easiest way to get in contact is to message them directly via the My Optus App or call them on 133 937.
What to do if you have encountered a scam
If you believe you may have been a victim or lost money to a scam, it's important to notify your financial institution as soon as possible.
Australian Mutual Bank members can speak to our Fraud Team by calling 13 61 91 or by emailing info@australianmutual.bank.
For more advice on how to avoid scams and what to do if you or someone you know is a victim of a scam, see our Security Advice section or visit the Scamwatch website at www.scamwatch.gov.au.
Sources:
Outage response | Optus
Warning over Optus outage compensation message
Scam targeting Optus outage victims, offering compensation
13 November 2023