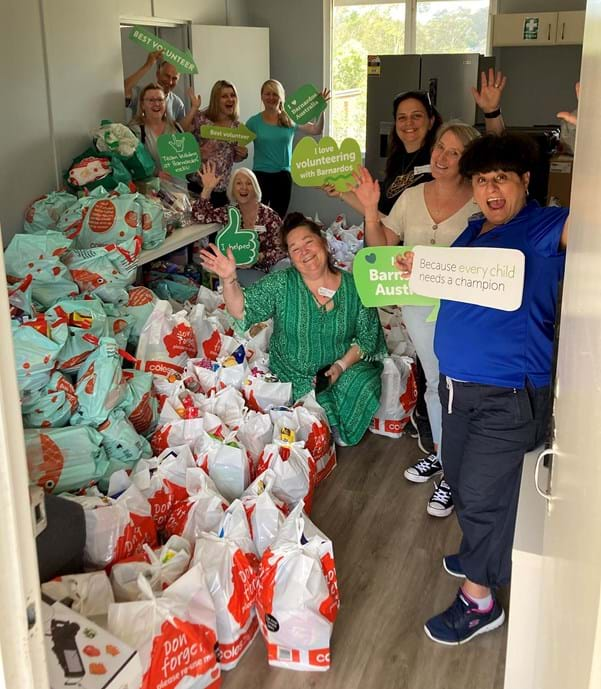 In the last few months, our appeal to the community for donations to help make much-needed Christmas hampers for families assisted by Barnardos Australia has not gone unnoticed, with many members and staff dropping off items at our branches and head office. The collected items have been delivered to Barnardos Children's Family Centre in Penrith, where donations from various organisations make up Christmas hampers that are delivered each year to the children, young people and families they support.
Eight eager employees from Australian Mutual Bank gathered at the Barnardos Children's Family Centre in Penrith last week, excited to participate in the Christmas hamper packing session. As they arrived at the charity's quarters in Cranebrook, they were greeted by a group of enthusiastic staff who showed them around and explained the process of packing the hampers. The hampers were meant to be gifted to families in need, and they were filled with a variety of non-perishable food items, as well as some small gifts and decorations.
As the morning progressed, the group worked efficiently- chatting and laughing as they assembled the hampers. During the lunch break, they learned more about the impact their efforts would have on the community. Mel, Program Manager at the Centre shared stories of families who had struggled through difficult circumstances, and how the Christmas hampers would make all the difference in bringing them a little bit of joy during the holiday season.
Touched by these stories, the group redoubled their efforts, determined to make the most of the remaining time they had to contribute. In the end, they successfully packed over 120 hampers, filled with food, gifts, and decorations to bring cheer to those in need.
As the group finished up and said their goodbyes, they left feeling grateful for the opportunity to give back and make a difference in their community. It was a small gesture, but one that would have a lasting impact on the families who received the hampers. And for the eight Australian Mutual Bank employees, it was a reminder of the power of coming together to make a positive difference in the world.
22 December 2022