Australians are being urged to be wary of phone calls and texts that appear to be from their bank, following alarming reports of life savings being lost to a highly sophisticated impersonation scam.
Reports to the ACCC's Scamwatch indicate scammers are using new technology to trick their victims, by making the call appear to come from the bank's legitimate phone number or by sending an SMS that appears in the same conversation thread as genuine bank messages.
This is known as "spoofing" and it's a technique used in bank impersonation scams. Victims are tricked into thinking they're dealing with someone from their bank, when they are in fact dealing with a criminal posing as a bank representative.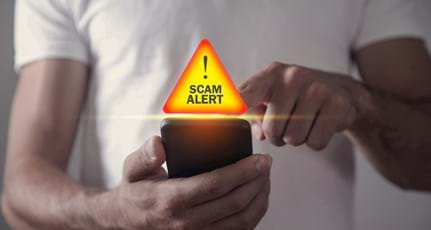 "We are incredibly concerned about bank impersonation scams because they can be so convincing, they are very hard to detect," ACCC Deputy Chair Catriona Lowe said.
Scamwatch has reported some alarming statistics:
There were 14,603 reports about bank impersonation scams in 2022 resulting $20 million in losses
Total losses to phone and text scams increased significantly last year, with over $169 million lost.
Losses averaged $22,000
There were more than 90 reports of losses between $40,000 and $800,000
"We know of a man who lost over $500,000 after receiving a call from someone claiming to be from a major bank's security department, wanting to know if a payment had been authorised," Ms Lowe says.
"In another case, a man lost $38,000 after receiving a scam text message about a suspicious transaction. He called the number in the text and was put through to a member of the bank's fraud team. Unfortunately, it was an elaborate scam and he lost everything."
What to look out for
According to IDCARE, there is nothing you can do to prevent a scammer from spoofing your number, or calling you from a spoofed number, however there is some things you can look out for:
There is a sense of urgency or threat to the message or call – "your bank account has been accessed", "your bank account has been locked" "a payment has been made from your account. If this was not you, please call (phone number)".
The caller will tell you to transfer money to a different account to 'keep it safe' or for 'further investigation'. No bank will ask you to do this, so do not transfer money. It is a scam.
If you receive an SMS with a telephone number to call, do not use it. Always find your bank's phone number independently.
For texts that supposedly came from your bank, make sure to examine them carefully. The message may look different to other messages in the SMS thread, such as different wording or phrases used. The message may contain a suspicious looking link.
Australian Mutual Bank will never send you a message with a link to click.


What to do if you've been scammed
If you have lost money to a scam, please notify your financial institution as soon as possible.
Australian Mutual Bank members can speak to our Fraud Team by calling 13 61 91 or by emailing info@australianmutual.bank.
If you have given personal information to a scammer, contact IDCARE.
For more advice on how to avoid scams and what to do if you or someone you know is a victim of a scam, see our Security Advice section or visit the Scamwatch website at www.scamwatch.gov.au.
Sources:
Abc.net.au: Scammers can disguise their number so it looks like your bank is calling
Scamwatch: Bank impersonation scams robbing Australians of their life savings
04 April 2023